General Information
What is "Seguros en Internet"?
Is a site from the Peruvian Network against Child Pornography that allows you to report illegal activities. This initiative is supported by Telefónica del Peru, which is one of the most important telecommunication companies in Peru and Latin America. Through this website Internet users are able to submit reports anonymously, helping us to make of the Internet a safer place for everyone.
How was "Seguros en Internet" created?
In October 2008, the Peruvian Network against Child Pornography (RCPI Peru), with the support from the Embassy of the Netherlands, launched the first hotline in Latin America for reporting child pornography. This hotline allowed several Internet users to anonymously report pornography cases to the corresponding authorities.
In February 2014, Telefónica del Perú, as part of its corporate social responsibility policy, contacted RCPI Peru, worried about the increase of illegal and harmful content on the Internet which specially affects underage Internet users. Telefónica del Peru showed then their disposition to support an initiative that would improve the already existing hotline.
From the dialogue and coordination between both institutions, a decision was taken to improve said hotline, extending its scope to different type of illegal and harmful activities. As part of this improvement, "Seguros en Internet" was created as the new hotline of RCPI Peru.
In May 2014, delegates from the INHOPE Foundation, from Netherlands, visited Peru to review the work done by the Peruvian Network against Child Pornography as well as the commitment from Telefonica del Peru with this project. After that visit it was proposed, and immediately accepted, to include this website into their global hotline network, transforming this hotline into one of the 50 reporting hotlinesalready existing in the world, being Peru one of the forty four countries conforming this network.
How is the hotline funded?
"Seguros en Internet" is managed by the Peruvian Network against Child Pornography with the support and help from the private company Telefónica del Peru. Both institutions are committed with the development and operation of the website. Nevertheless, we require support from all the private and public institutions which might want to collaborate on this effort to achieve the desired success.
Therefore, this initiative needs to keep adding efforts and resources in order to enhance our technology platform, extend its scope, improve resources and develop our institutional capacities so we can make of this website an efficient and reliable site to submit reports online.
If you want to support this initiative, please send us an email to red@red.org.pe
What types of reports are received by this hotline?
Any report regarding: child pornography; underage sexual harassment on the Internet (grooming); advertisement of child sexual tourism and human trafficking through child sexual exploitation, and cyberbullying.
Which other things can be reported?
Any information published on the Internet that can be considered harmful for a minor, for example: images and videos that are too violent, websites or webpages promoting or inciting terrorism or discrimination of any kind, or those that share information promoting anorexia or bulimia, among others.
Flowchart: on-line complaint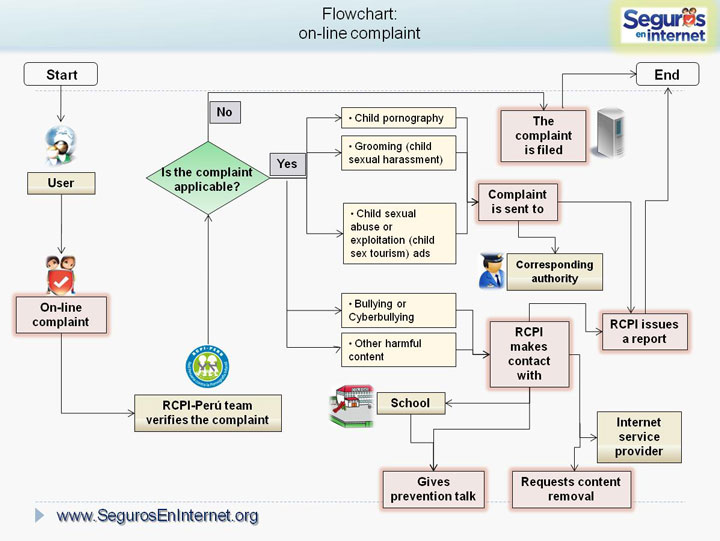 Regarding information confidentiality
All information received by this hotline will be kept completely confidential. The content of a report will only be disclosed to the competent authority and will not be displayed anywhere nor will be altered in any way.
If the complainant wishes to identify themselves, their personal data filled in the corresponding form (name, last name, email address or telephone number) will be considered confidential and will not be disclosed to third parties.
Conditions for the report
This website should only be used for the purposes for which it has been created. All reports should include only true and accurate data and the hotline should be used in a responsible and serious way.

It is not mandatory to identify yourself but we ask for an email address to which we can send a receipt confirmation.

All the information we receive will be considered completely confidential and classified. Only the national competent authority will be informed about the content of the report.

If you want to send us any additional information or need to contact the website administrator, please write to contacto@seguroseninternet.org.

If we confirm that the information we received is fraudulent, has been made in bad faith, intents to damage any third party's image or reputation or intents to damage our website security or operation, we will take the corresponding legal actions, according to the Law 30096 on Cybercrime.